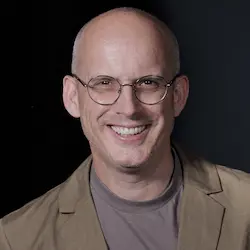 Paul Boag is a leader in conversion optimisation, digital strategy and user experience design. He has been working with diverse organisations such as The European Commission, PUMA and Doctors Without Borders for over 25 years. Through consultancy and training, he helps organisations better connect with today's digital consumers. Paul is also a well-respected figure in the digital sector. Author of six books, including Click, Digital Adaptation and User Experience Revolution. Finally, he is a prolific writer for numerous publications, including his blog, and regularly speaks internationally.
---
Can a website that encourages users to act be created without dark patterns? Well, it turns out, yes, it can! Learn to make websites more engaging through good design, fascinating content, and solid UX in this course by Paul Boag.

⠇
Upcoming Workshops with Paul Boag
---
Learn a robust process that will successfully take your design project from initial briefing to final delivery and beyond.

Learn the process of finding clients. If you are reliant on word of mouth recommendations and clients coming to you, then you need this course. Personal recommendations are great, but if the phone stops ringing, you need a way to generate new business.