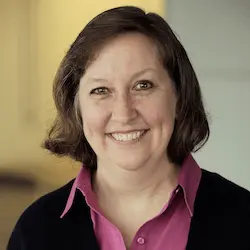 Jen Kramer
Freelance Instructor
Jen Kramer has taught HTML and CSS for all skill levels in academic and commercial settings for over 20 years. She is the author of over 60 video training courses and three books.
---
Get to know CSS in the right way without the fluff. You'll style text, build navigation bars, headers/footers, add icons, and more. You'll even build a professional portfolio website by the end of the course!

Learn the essential CSS layout techniques for building responsive, beautiful websites. You'll use CSS Grid and Flexbox along with responsive images to build out real-world web layouts!

Flexbox and Grid provide methods for creating responsive websites with designs not previously possible. Combined with CSS Calc & Custom Properties, they revolutionize the way we lay out web pages with CSS!
Upcoming Workshop with Jen Kramer
---
According to the HTTP Archive's 2020 report, there are 112 elements currently defined and supported in the living HTML specification. However, over 90% of sites use 41 or fewer elements in their sites, with the median using 30 elements or fewer. Divitis runs rampant in our markup, as we ponder how …