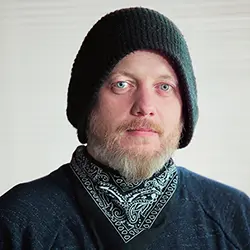 Steve is the front-end architect at Temporal. Previously, he was the front-end architect at Twilio and SendGrid. He is the director emeritus and founder of the front-end engineering program at the Turing School for Software and Design in Denver, Colorado — a non-profit developer training program. In a previous life, Steve was a New York City public school teacher. He taught special education and web development in Manhattan, Brooklyn, and Queens. He currently lives in Denver, Colorado
---
Learn the foundation of Rx.js by creating an observable from scratch, manipulate data arriving over time with Rx.js operators, and build up to orchestrating multiple API requests to craft complex asynchronous experiences.

Learn the Redux API from scratch, then learn to hook Redux into a React application. Also learn how to extend Redux with various tools from its ecosystem, including Reselect, Immer, and Redux Toolkit, to reduce boilerplate and speed up your development!

Ship React apps with more code confidence using TypeScript! Migrate your app to TypeScript, type simple and advanced React components, and learn all types shipped with React for writing React with TypeScript.

Use React APIs to manage state in class-based components, and in React hooks. Create custom hooks, use reducers, add routing, and then learn ways to do more complicated state management techniques such as using the Context API.

Learn language building techniques: Lexing, Parsing, Tokenization, Traversing Abstract Syntax Trees, and Transpiling to JavaScript.

Learn best practices for structuring your data. You'll get your hands on multiple solutions for managing state including Redux, Redux Thunk, Redux Observables and MobX.

Build full-stack applications leverging your React skills using Google's Firebase platform.

Use Electron to build native, cross-platform desktop applications using web technologies (e.g. HTML, CSS, and JavaScript).

Learn how to deploy your next passion project online or your organization's next-generation client-side application with Amazon Web Services like S3, Route 53, CloudFront, and much more!

Learn to control simple hardware devices, read data from sensors, or create IoT projects with Johnny-Five library for Node.js!

Write more efficient JavaScript, optimize rendering performance, load assets faster with a CDN, split loading resources with Webpack and more!
Upcoming Workshops with Steve Kinney
---
End-to-end testing your application can protect against unexpected edge cases and regressions. Having great tests provides you with confidence to make changes to and refactor your application with confidence that it will still work as your users and customers expect. Discover how to write reliable …

Wrapping your head around all that AWS offers and figuring out where to get started can be challenging. In this workshop, we'll focus on building the infrastructure needed to take your application to production using Amazon Web Services.

Learn how to use Figma as a collaborative design tool. This workshop is focused on front-end engineers who want to understand how to use Figma to rapidly prototype user interfaces. We'll also cover best practices for implementing a design in Figma using code.