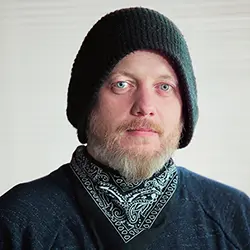 Steve is the front-end architect at Temporal. Previously, he was the front-end architect at Twilio and SendGrid. He is the director emeritus and founder of the front-end engineering program at the Turing School for Software and Design in Denver, Colorado — a non-profit developer training program. In a previous life, Steve was a New York City public school teacher. He taught special education and web development in Manhattan, Brooklyn, and Queens. He currently lives in Denver, Colorado
---
Use Electron to build native, cross-platform desktop applications using web technologies (e.g. HTML, CSS, and JavaScript). Learn inter-process communication, UI customization, native features, and performance optimization.

⠇

Ideal for lead UI developers: learn unit testing, continuous integration, accessibility testing, mocking, and coding standards enforcement. Guide your team toward coding scalability!

⠇

Write more performant and maintainable Redux at scale. In this course, you'll use Redux Toolkit to simplify reducer logic and actions, use TypeScript with Redux, add tests, and use RTK Query to fetch data in real-world projects.

⠇

Write performant React apps by learning to structure components and memoize to avoid re-renders, load code on-demand, and leverage new concurrent features in React 18.

⠇

Use TypeScript with Components, Context API, React Hooks, and type props to build more robust and reliable React applications at scale.

⠇

Learn Figma for creating user interface prototypes. Make shapes and frames that will hold the different pieces of the UI. You'll also learn how to use reusable styles, typography, and components that you can use to create prototypes.

⠇

Cypress is the fastest and easiest way to write end-to-end tests for your client-side applications. Learn the selector engine, test runners, assertion library, and write your own custom commands.

⠇

Build an enterprise-grade deployment infrastructure on AWS using S3, Route 53, CloudFront, lambda@edge, and more!

⠇

Learn the Redux API from scratch, then learn to hook the Redux React application. You'll also learn how to extend Redux with various tools from its ecosystem.

⠇

Learn language building techniques: Lexing, Parsing, Tokenization, Traversing Abstract Syntax Trees, and Transpiling to JavaScript and make your own language now!

⠇

Learn about structuring your data with front-end architect Steve Kinny. Start the "State Management with Redux & MobX" course today!

⠇

Learn to control simple nodebots hardware devices, read data from sensors, or create IoT projects with Johnny-Five library for Node.js!

⠇

Write more efficient JavaScript, optimize rendering performance, load assets faster with a CDN, split loading resources with Webpack, and more!

⠇

Master the basics of Rx.js by creating an observable from scratch, manipulate data arriving over time with Rx.js operators.

⠇
Upcoming Workshops with Steve Kinney
---
Learn the fundamentals of coding, create interactive stories and games, and explore the world of animation.

We will learn to make LEDs light up, control Web APIs, read update web pages, pull data in from third-party APIs, and more!

Spend a full day learning how to configure and extend Vite to streamline your build process and tap into the full potential of your development environment.

Spend a full day learning to configure and extend Tailwind CSS to build sophisticated designs.