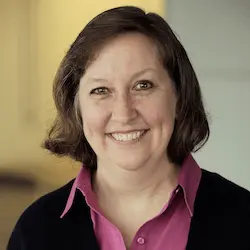 Jen Kramer
Harvard University Extension School
Jen Kramer is a Lecturer at Harvard University Extension School in the Master's of Liberal Arts in Digital Media Design, teaching at least five courses per year, advising students, and assisting in curriculum design. She is also the author of over 35 video training courses and three books.
---
Flexbox and Grid provide methods for creating responsive websites with designs not previously possible. Combined with CSS Calc & Custom Properties, they revolutionize the way we lay out web pages with CSS!

Master CSS Grid and Flexbox, the latest tools and tricks to layout beautiful, responsive web applications with less code.
Upcoming Workshops with Jen Kramer
---
Page layouts are the heart of any website or application. With plenty of exercises and practice, master the Flexbox and Grid specifications and responsive images, applying them to everyday page layouts!

According to the HTTP Archive's 2020 report, there are 112 elements currently defined and supported in the living HTML specification. However, over 90% of sites use 41 or fewer elements in their sites, with the median using 30 elements or fewer. Divitis runs rampant in our markup, as we ponder how …