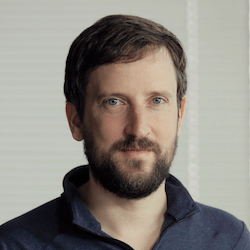 Brian is currently working as a principal program manager on Azure at Microsoft and he's all about developers, developers, developers. Previously he was a JavaScript engineer at Netflix, LinkedIn and Reddit. When not working, Brian finds time to teach on Frontend Masters, run his mouth on Front End Happy Hour, travel all over the world, and play with his adorable dog. Brian is currently a resident of Seattle, WA.
---
In this course you'll learn the basics of using four of the most popular open-source types of databases: document based database MongoDB, relational database PostgreSQL, graph database Neo4j, and key-value store Redis.

Gain powerful command-line skills, learn to use Ubuntu, quit VIM, handle package management, and write your own shell scripts!

Organize your front-end code, manage application state with state machines, and automate writing better code using tools like ESLint, Parcel, and Prettier.

Learn to create containers from scratch and with Dockerfiles, run containers from Dockerhub, and learn best practices for front-end and Node.js code in containers.

Build scalable React applications using the tools and techniques available in the React ecosystem. You'll learn hooks in-depth, CSS-in-JS with emotion, increase performance with code splitting and server-side rendering, add TypeScript, test your app with Jest …and more!

Much more than an intro, you'll build with the latest features in React, including hooks, effects, context, and portals. Learn to build real-world apps from the ground up using the latest tools in the React ecosystem, like Parcel, ESLint, Prettier, and Reach Router!

More than an introduction, in this course you'll go from building your first website to having the foundation for becoming a professional web developer!

Learning computer science makes you a better developer, makes your apps better, and allows you to answer difficult engineering interview questions.

We're going to tackle some big topics in just five hours: Algorithms and Big O Analysis, Recursion, Sorting, Data Structures and Functional Programming.
Upcoming Workshops with Brian Holt
---
In this 2-day training, attendees will go from knowing nothing — or very little — about React to building a whole app using React and the surrounding tools in the React ecosystem.

Ever been asked a dumb interview question about arcane computer science concepts that you haven't ever learned and you question why they're asking? We're going to learn both how to ace those interviews and why those concepts are still useful to you! Four more semesters of computer science! This …