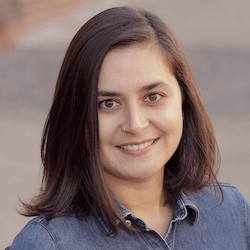 Anjana Vakil is Engineering Learning & Development Lead at Mapbox. Anjana suffers from a debilitating case of curiosity, which led her from philosophy to English teaching to computational linguistics to software development. Talk to her about functional programming, language design and implementation, and speech technology and ask her about Mozilla, Outreachy, and the Recurse Center. She can usually be found in San Francisco—that is, when she's not traveling the world trying to share the joy of programming and make the tech community more diverse and accessible.
Upcoming Workshop with Anjana Vakil
---
This will be a friendly, practical exploration of functional programming fundamentals.