In our latest customer survey, we asked what customers loved about Frontend Masters. Here's what they said!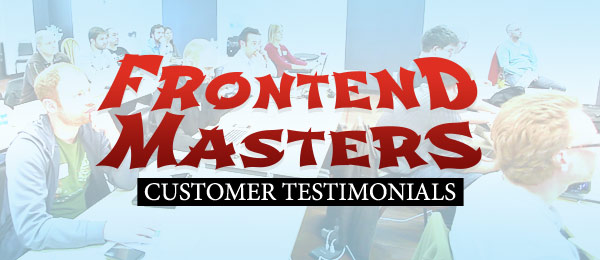 Q: What do you love about Frontend Masters?
"The expertise of the presenters and the concrete examples that they give. The presenters give good examples of how/why to use specific techniques." – Ed J.
"I love learning from people that articulate themselves perfectly. That requires well thought out lessons." – Sam B.
"The high level of expertise of the trainers.
The deep dive into the covered technologies." – Andrew B.
"The training and speakers are awesome." – Tyler G.
"I feel like I'm at the course. Like the questions from audience b/c most of the time, I have same questions." – Kenny L.
"High quality, thorough content by experts." – Scott F.
"Current topics." – Gilbert B.
"Great content/speakers, fair pricing. Easy to use." – Andy P.
"The great masters and content. For example the Doug C. javascript training has changed my programming forever!" – Chris S.
"It focuses on us and our needs." – Oscar V.
"The people are great." – Robert B.
"I love all the content in one place, focused on the things I need to learn." – Jennifer J.
"The most important is all the little tips we get from the presenters that we don't get anywhere else.
Little tricks here and there, some tips on how to do something better, better tools, code that we can get and the slides." – Renata B.
"Its contents are solid, in depth and relevant. Most other workshops are too shallow, or just marketing schemes. Even paid for ones." – Adrián M.
"I like the videos you have up and think you've chosen the right people for each talk." – Nej K.
"Very, in-depth coverage of the topics." – Mike M.
"The fact that everyone who is speaking is an experienced industry professional." – Faisal A.
"Informative teachings from respected sources." – Michael B.
"I like the topics and the way that each session which has covered from basic to advanced in-depth level." – Sudharsanan M.
"Quality of the videos
Prompt email responses from support
Monthly updates
Affordable price" – Satish S.
"It's reliably good content." – Tiffany F.
"Focus on quality not quantity. topics relevant for right now." – Carter K.
"I have over 20 years experience in desktop application software for the medical industry and am in the process of transitioning into web applications. There are tons of courses on web technology basics and language syntax, but your courses were the only ones that I have found that provide a design and architecture perspective." – Laurie R.
Thanks everybody! Your kind words add fuel to the fire to continually put out the best content we can.